The Martin City Melodrama & Vaudeville Co. opens its 33rd season with
"A Christmas Bette!©" in their brand new forever home!!!!
Back by popular demand, this original musical spoofs "A Christmas Carol" with all the seasonal silliness possible. The old traditional "A Christmas Carol" is being performed, when the aging star of stage and screen, Bette Davis, decides to make her comeback in the middle of the production. Nothing can stop the over-the-top Bette Davis from upstaging everyone and soaking up all the attention!
The mainstage professional company includes Sean Taylor, Garrett Myers, Philip Blue Owl Hooser, Michaela Menke, and Martin City's artistic director and resident Bette Davis, Jeanne Beechwood.
After the melodrama, don't forget the vaudeville! It wouldn't be the same without Martin City Melodrama & Vaudeville Co.'s water glass symphony!! Featuring new holiday tunes, this year's water glass symphony will delight all ages from 0 to 102. Rumor has it that an audience member will be picked to join the water glass fun onstage. Besides the seasonal silliness of song, dance, comedy and water glasses, don't miss the 12 DOGS OF CHRISTMAS! Literally 12 senior rescue dogs will appear on the Martin City stage howling about the howlidays!!
Opens Nov. 24 and runs through Jan. 1, 2018.
Nov. 25
:    
3:30 pm & 7:30pm
Dec. 23         3:30pm & 7:30 pm
Jan. 1              3:30pm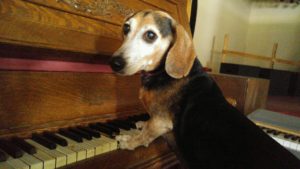 Buy Your Tickets!
Order your general admission tickets today, before we sell out!
Tickets:
$13.99 for adults
$12.99 for seniors 65 and over
$11.99 for children up to age 10
Reservations are essential! If you have a large group, please call 913-642-7576 or email info@martincitymelodrama.org