November 2 and November 3, 2019
Phantom OF the OPRY!©
Tells a wacky new version of the classic "Phantom of the Opera" tale! Come boo, cheer and even yodel during this mini melodrama starring Travis Hensley.
In double bill with:
Life in A Chair ©
Tells the moving, inspirational story of Tim Bartow and his life in a chair. Other cast members include Lea Lavish, Terry Dawson and Sarah Owens, and their lives in their "chairs".
---
SHOWTIMES
Saturday, November 2, 7:30PM
Sunday, November 3, 3:30PM
---
Reservations are ESSENTIAL for this unique Top Bananas© Program. Tickets are $9.99 each. Top Bananas is the division of the Martin City Melodrama & Vaudeville Co. working with special needs of all ages and thus making the spotlight accessible to everyone!! Please call 913-642-7576 or email martincitymelo@yahoo.com. A snack bar will be open for all performances for purchases featuring seasonal goodies. The Martin City Melodrama & Vaudeville C0. is now located in its forever home at 702 Blue Ridge Ext, Grandview, Missouri 64030. This building is fully accessible. All ticket sales are final.
The theatre is located at 702 Blue Ridge Extension Grandview, Missouri 64030 and completely accessible.
Learn More
35 Years of Laughs!
For 35 years, Martin City Melodrama & Vaudeville Co. has brought the Kansas City area the unique theatrical style of melodrama & vaudeville while giving over 500 local actors their professional start. From our mainstage productions to Martin City Jr.'s edu-tainment shows, we have continued to produce quality original adaptations of literary classics, recreate musical revues, and perform fractured fairy tale operettas.
A core part of Martin City Melodrama is the Top Bananas! program established to engage and empower the community of individuals with special needs in the live theatre. We're also expanding our offerings to include classes and workshops specially tailored to differently-abled actors.
We are thrilled to be in our forever home! MCMVCo. and to be bringing laughter and quality performances to audiences of all ages, for years to come.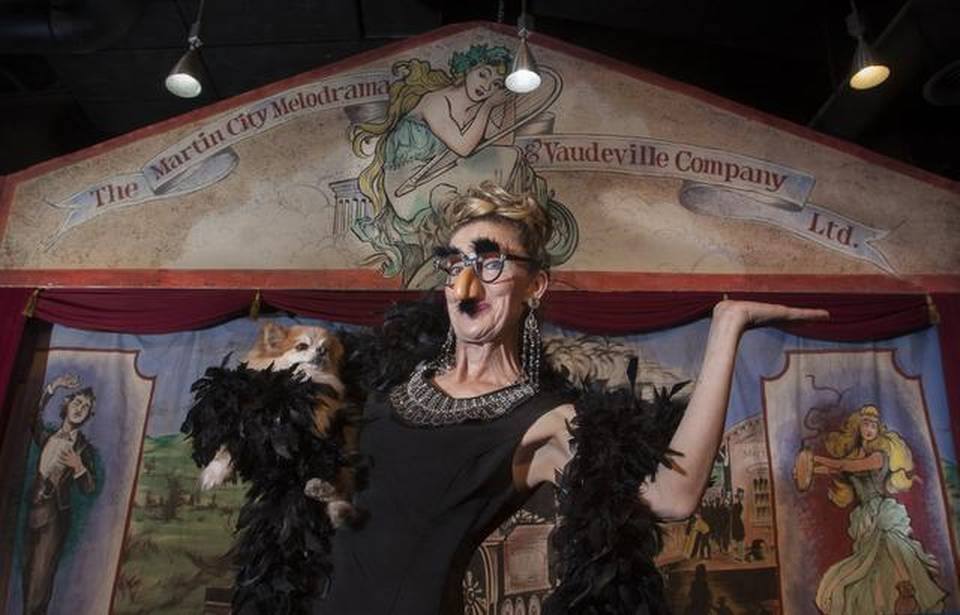 Martin City Melodrama & Vaudeville Co. is a 501(c)(3) not-for-profit organization. Your donation is tax deductible.