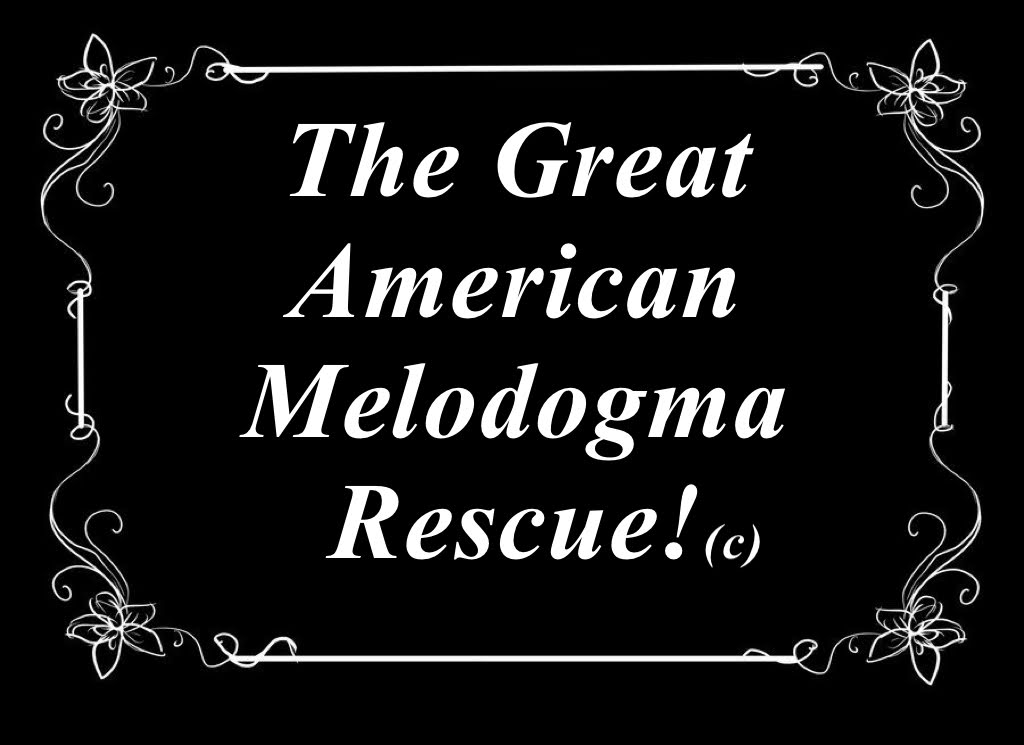 The Great American Melodogma Rescue
The mini melodrama, The Great American Melodogma Rescue, is officially out on our new YouTube page! You can view it at: https://www.youtube.com/watch?v=aOZwpoTQVQM&t=1s , and, if you liked the video and you feel generous, feel free to donate to our PayPal at the red 'Donate Now' button on the bottom of our home page! Thank you for watching!
Scheduled to open in June 2020:
Martin City MadHatters! (c) 
A brand new family show with music, melodrama, comedy, and improv!! 
October 2020:
Alice in Halloweenland! (c)
A Top Bananas program featuring actors with UNIQUE abilities retelling the famous classic tale with a NOT so spooky twist. 
Holiday Show: November, December 2020: 
The Muttcracker Suite! (c) 
A new dance step on the familiar classic ballet featuring 10 rescue dogs in tutus and some 'hoomans', plus our world famous waterglass symphony!!!!!!!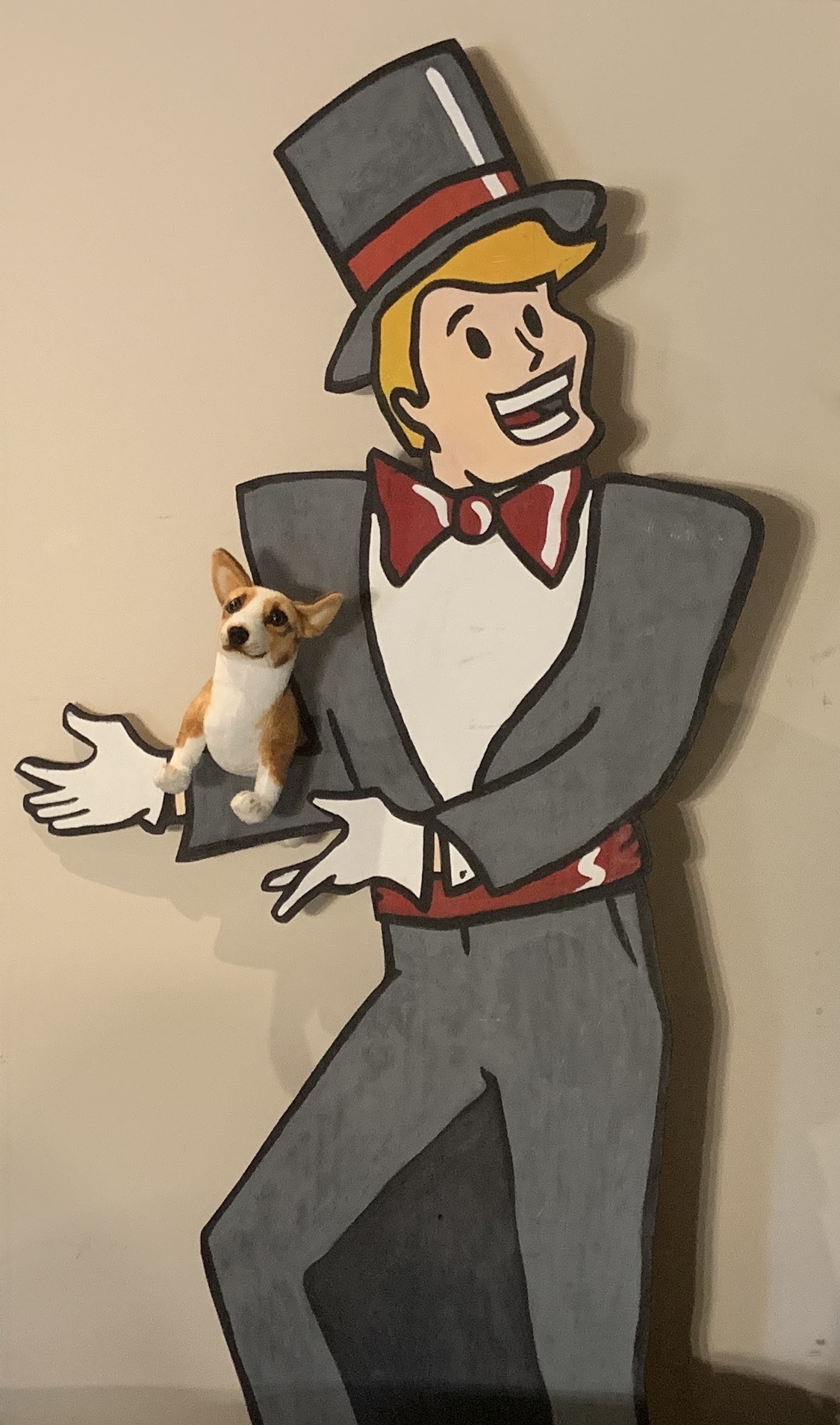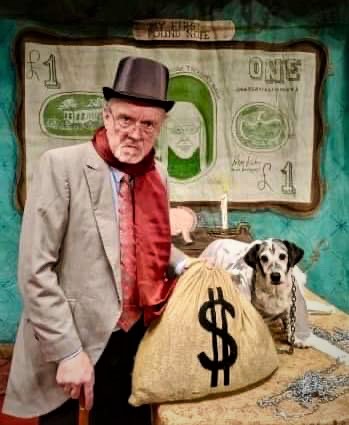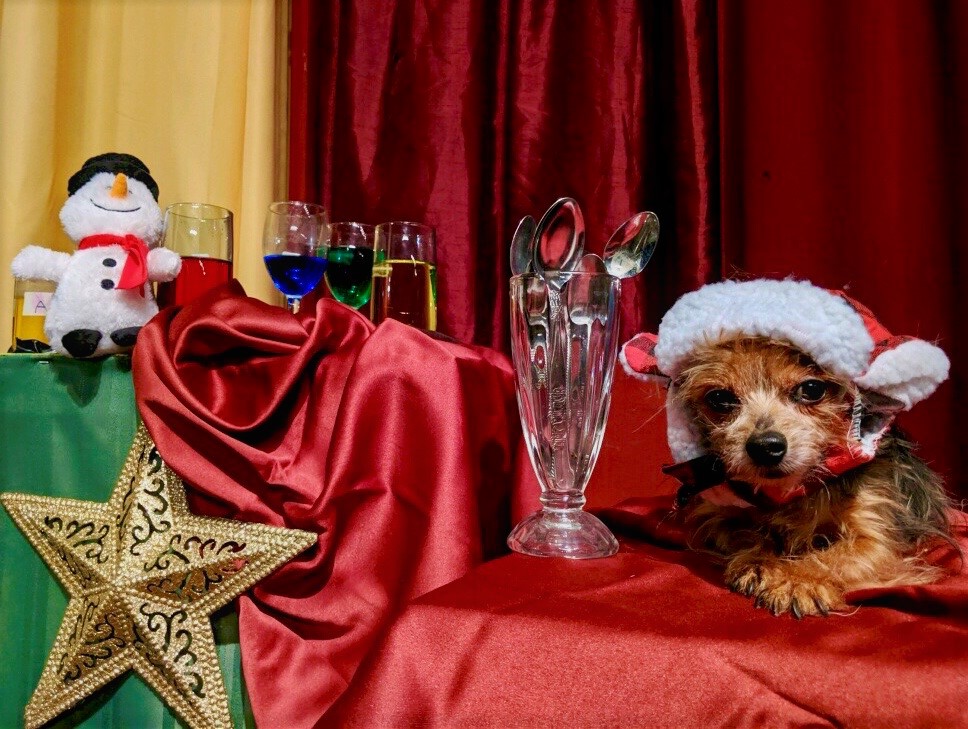 Celebrating our 35th
Holiday Season!!
Scrooged and Marley(c) plus Holiday Vaudeville Review
November 29 – January 1
A world premiere musical melodrama, SCROOGED AND MARLEY(c) will be Martin City Melodrama's newest holiday show! Ebenezer Scrooge is beginning to have physical limitations in his old age at his counting house. After Mr. Scrooge investigates the cost of physical therapy, or hiring some additional help besides Bob Cratchit, Scrooge thinks the costs are way too high. Thinking it might be a cheaper way to go, Scrooge obtains a service dog (a senior rescue dog will be playing the role of the service dog). It turns out this service dog is Marley, Scrooge's long passed, greedy business partner, re-incarnated!
While keeping in tradition with this timeless Charles Dickens classic, Martin City Melodrama & Vaudeville Co. adds its wonderful, wacky twist to the rest of the story. Ebenezer Scrooge and his service dog, Marley, meet up with some unusual spirits throughout the night before Christmas. These spirits turn out to be FAMOUS CAROLS, including Carol Brady and Carole King! Finally, Ebenezer Scrooge sees the evil of his ways and, with the help of Marley the service dog and the famous Carols, Scrooge is transformed for good. He finds his holiday spirit and shouts from the roof-tops, "DOG bless us everyone!"
Following the melodrama is the Holiday Vaudeville with songs, dances, and comedy sketches in the theme of the holidays. This includes the theatre's WORLD FAMOUS WATER GLASS SYMPHONY, plus, the debut of Martin City Melodrama's Christmas Chickens!
November 2 and November 3, 2019
Phantom Of the OPRY!©
Tells a wacky new version of the classic "Phantom of the Opera" tale! Come boo, cheer, and even yodel during this mini melodrama starring Travis Hensley.
In double bill with:
Life in A Chair ©
Tells the moving, inspirational story of Tim Bartow and his life in a chair. Other cast members include Lea Lavish, Terry Dawson and Sarah Owens, and their lives in their "chairs".
---
SHOWTIMES
Saturday, November 2, 7:30PM
Sunday, November 3, 3:30PM
---
Reservations are ESSENTIAL for this unique Top Bananas© Program. Tickets are $9.99 each. Top Bananas is the division of the Martin City Melodrama & Vaudeville Co. working with special needs of all ages and thus making the spotlight accessible to everyone!! Please call 913-642-7576 or email martincitymelo@yahoo.com. A snack bar will be open for all performances for purchases featuring seasonal goodies.
The Martin City Melodrama & Vaudeville Co. is now located in its forever home at 702 Blue Ridge Ext, Grandview, Missouri 64030. This building is fully accessible. All ticket sales are final.
Learn More
35 Years of Laughs!
Our non-profit opened 35 years ago in 1985 in Kansas City, Missouri. We have given over 600 local Kansas City actors, directors, choreographers, scenic artists and musicians their first theatrical jobs. We continue to promote classic, G-rated comedies to thousands of families.
Our mission is to produce historical theatre projects with our own specialized family programming.
- The Martin City Melodrama & Vaudeville Co.: Our programming consists of creating family friendly shows for all ages.
- Martin City Jr.: The programming for children serves as 'edutainment' with a moral. We present in our own theatre, schools, libraries, state fairs and fringe festivals.
- Top Bananas: This programming spreads the vision of inclusion for any and all disabilities. To date, we have worked with and volunteered for over 10 local organizations, servicing students and adults with special needs.
- Oldies, But Goodies: Our newest programming consists of rescuing senior shelter dogs. These 'pawformers' unite with our actors with UNIQUE abilities, thus making the spotlight accessible to all.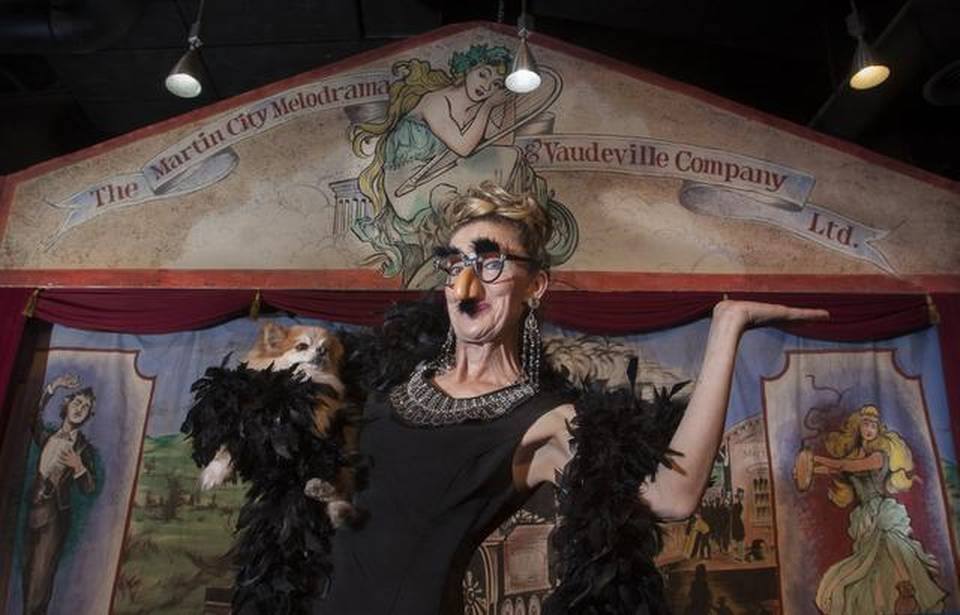 Martin City Melodrama & Vaudeville Co. is a 501(c)(3) not-for-profit organization. Your donation is tax deductible.