Life Centers of Kansas proudly presents Make 'Em Laugh!(c), a vaudeville tribute to historical entertainment. These talented performers from Life Centers of Kansas have worked with Top Bananas!(c) director, Jeanne Beechwood, for the past 3 years creating the vaudeville review Make 'Em Laugh!(c).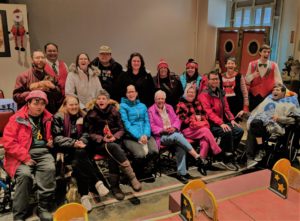 This musical vaudeville will feature special needs adults from ages 20 to 70- singing, dancing, performing magic tricks, puppetry, and, of course, classic jokes!
Come support these performers as they make "Enter-CHANGE-Ment" history on March 7-8-9, 2018, at 11:00 a.m., at the new theatre home of Martin City Melodrama!
Reservations are essential! Call (913) 642-7576 for tickets. A suggested donation of $4.99 per ticket is requested to help support future Top Bananas!(c) programming.